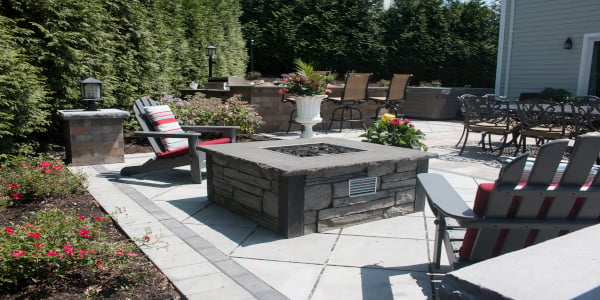 Summer may have ended and the cool weather has officially settled in, but that doesn't mean you have to always be chilly when you head outside. When you have a backyard fire pit area no matter what time of the year it is, you'll always have a great place to cozy up to. The long months of always having to stay inside to keep warm are long over!

Different Fire Pit Designs to Keep You Warm
No matter what design or aesthetic you're looking to add to your yard, Nicolock has the perfect options for everyone. Whether your yard is large or small, we'll make sure your new fire pit fits seamlessly into your yard. Not all fire pits are the same, nor are their shapes.
Round Shaped
This shape is great for sitting around with friends and family and having great conversations all night long. Putting chairs all along the outskirts will encourage people to sit down for hours, forget the time of night and just converse. Check out the Ovation Fire Pit, Belvedere Fire Pit or Serafina Fire Pit that we offer at Nicolock. Customize each fire pit to your specifications with our vast selection of natural materials and combinations.
Square-Shaped
A square-shaped fire pit will give your yard that sophisticated, high-end look. They also fit formal and structured gardens and patios much better than other shaped fire pits do. Between our Verona Fire Pit and Encore Fire Pit found at Nicolock, you'll be able to create a space for your yard that anyone who enters will be envious of.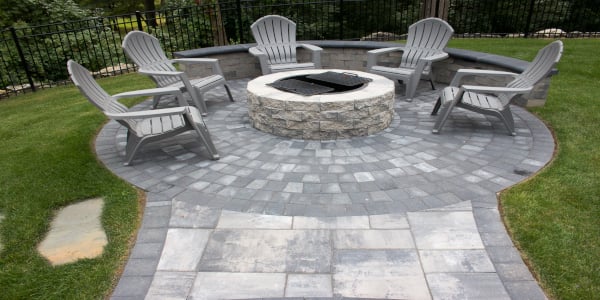 3 Ways to Customize a Unique Backyard Fire Pit Area
When it comes to your yard, the more unique it is to you, the more you'll enjoy it. There are a few ways you can customize your backyard fire pit area that will make anyone who visits sad to leave.
1. Add Seating
This may be obvious but it's also the most important tip: add seating. Having comfortable seating around your fire pit will encourage family and friends to take a seat and just enjoy the outdoors and company around them. Nothing beats time spent around the fire pit with friends and family.
2. Keep it Separate from the Chaos
Keeping your fire pit area away from swimming pools, swings sets, dinner tables, etc. will really allow anyone who sits there to completely relax. Nothing is better than chilling by the fire with not a worry in the world.
3. Keep it Cozy
Studies show that being exposed to a fire and the sound of flames for just 15 minutes can help decrease a person's blood pressure and help them to relax. Complete that with comfortable seating, pillows and blankets and you will have a great spot to unwind and finish each day off calm and tranquil.
Don't think that because the summer has ended and the cold weather is coming that you have to spend all of your time indoors. With a backyard fire pit area built by Nicolock, you'll be enjoying your time outdoors month after month.